Oil painting by master bought for 112.7m yuan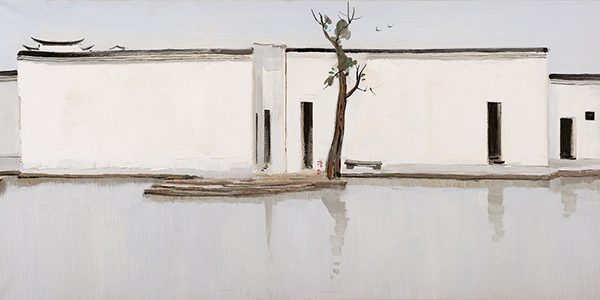 Wu Guanzhong's painting Twin Swallows. [Photo provided to China Daily]
Chinese artist Wu Guanzhong's oil painting of a serene Jiangnan landscape fetched 112.7 million yuan ($16 million) at Poly International Auction's sale on Thursday night in Beijing.
The 1994 painting, titled Twin Swallows, was sold at the second highest price paid for an oil work by Wu, who died in 2010 in Beijing. The modern master's output, especially landscapes, enjoy wide popularity for their color system and for conveying a sense of Chinese poetry.
Wu first created a colored ink painting, also titled Twin Swallows, in 1988. Based on that, he created the oil version with some variations in details. The ink version was auctioned in the same sale, selling for 54 million yuan.
The most expensive piece of Wu's oil on canvas, and of his oeuvre, is Zhouzhuang a 3-meter-long landscape of the water town in Jiangsu province. It grossed HK$236 million ($30 million) in a Hong Kong auction in April 2016.
Throughout his career, Wu revisited the motif of Jiangnan-the lower reaches of the southern bank of the Yangtze River. A native of Jiangsu province in the heart of Jiangnan, Wu captured the region's tranquil beauty, giving full play to his homesickness after decades of living in Beijing. His classic paintings of charming Jiangnan easily arouse viewers' poetic sentiments.
Twin Swallows gathers these elements to form an iconic image of Jiangnan in general: the white walls and gray roof tiles of folk architecture; age-old trees laden with leaves; a clear, reflective river; and a couple of swallows flying in a damp, clean sky.
Wu combined the Chinese and Western styles in Twin Swallows to present a simple elegance. He adopted the classic Chinese painting techniques of baimiao, finely controlled outlining, and liubai, leaving blank areas.
The painting shows Wu's effort to portray Jiangnan in oil over two decades. In the 1950s, when he was a teacher at the Central Academy of Fine Arts in Beijing, he heard lectures by visitors from the former Soviet Union who said Jiangnan was gloomy all year, so its was not bright enough for a good oil painting.
Afterward, Wu traveled frequently in Jiangnan in the firm belief that he would find a way to show its beauty in oil on canvas.
"I love the gloomy spring days," Wu said. "Black, white and gray are the main tones of Jiangnan. It thus became the base on which my works are grounded, and also the start of my career."