Cradle of China's art scene celebrates opening-up with exhibition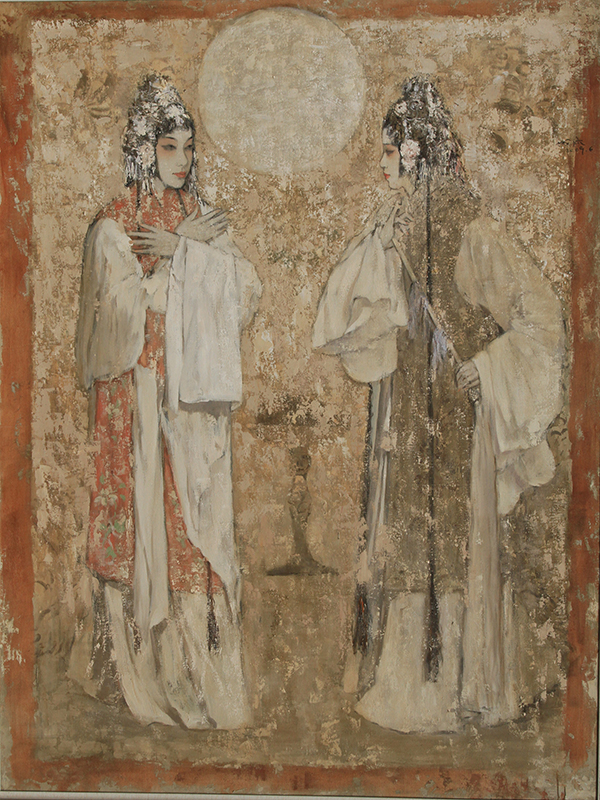 Artworks by Qian Liu and Pan Hongha are among the pieces on show at the Shanghai exhibition that showcases the country's art scene over the past 40 years. [Photo provided to China Daily]
An exhibition at China Art Museum Shanghai shows the drastic development of the country's society, economy and art scene over the past 40 years.
On display are large oil paintings, with some featuring China's aircraft carrier patrolling the nation's maritime borders, iconic high-rise buildings that have changed Shanghai's skyline and scenes from urban life, such as the Shanghai Marathon and people using the city's new shared-bike system.
The exhibition also shows the work of established artists who continued to create after 1978, such as Liu Haisu, Tang Yun and Zhu Qizhan. One of the most important pieces on display is perhaps The Lion Grove Garden, a 2.9-meter-wide Chinese ink painting with an innovative composition and abstract strokes by Wu Guanzhong (1919-2010).
Rising Tides: An Exhibition Commemorating the 40th Anniversary of China's Opening-up is jointly presented by four art museums from the Yangtze Delta region. They've brought together a total of 120 paintings, sculptures, prints and picture-book manuscripts-all of which were created from 1978 onward-from their respective collections.
Ling Ning, an engineer and pilot of China's domestically developed large passenger plane, the C919, was a special guest at the opening ceremony. Among the exhibits is a painting by Han Juliang that depicts the aircraft in midair after taking off with its nose pointed toward the clouds.
"I can't figure out what the artist did to achieve this, but the plane is so vivid and three-dimensional that it feels more real and striking than photography-she seems to be flying out of the picture at you," Ling says.
"We used to work in the plane and at the airport looking up at it. The artwork brings back lots of memories."